Hontiveros, Taulava to join PHL 5 in FIBA Champs Cup
04/25/2011 | 12:17 AM

Frankie Lim, team manager of Smart Gilas, confirmed this development to GMA News.
"It's a pre-approved deal," said Lim in an interview Sunday night after his team lost to the Ginebra Gin Kings, 85-92, in Game 4 of their PBA best-of-five semifinals series.
"I don't see any problem in getting their services. We really need them to reinforce our campaign in the FIBA Asia Champions Cup. Eventually, they will become members of the squad and play for the FIBA Asia Championship," added Lim.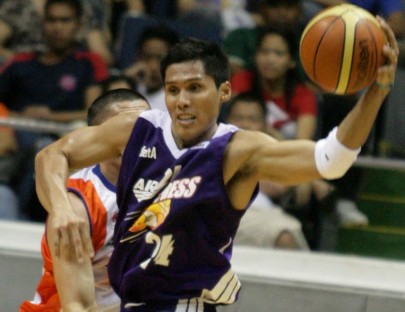 Dondon Hontiveros of Air21 is expected to suit up for Smart Gilas in the coming FIBA Asia Champions Cup next month. GMA News
The Philippines will host the 10-nation FIBA Asia Champions Cup to be held at the Philsports Arena from May 28 to June 5.
National team coach Rajko Toroman added Hontiveros and Taulava will become key additions to their squad.
"We really need them. They've become more of a necessity for us right now with Kelly Williams and Jimmy Alapag of Talk N Text playing in the PBA Finals," said Toroman.
Air21 coach Bong Ramos said in a telephone interview that he was informed by the Express management of Smart Glas' request to have Hontiveros joining the squad in the FIBA Asia Champions Cup.
"Hindi ko naman siya pipigilan dahil national team 'yan," said Ramos.
Ryan Gregorio, Taulava's coach at Meralco, said he will approve Taulava's inclusion to Gilas as long as there is management's approval.
"Yes, if it's for the country, it's non-negotiable and there's no reason to disagree in loaning Asi to Gilas," said Gregorio in a text message. "But of course, it is subject to approval. If Meralco management agrees, I will not get in the way."
Hontiveros and Taulava were teammates in the all-pro national team to the 2002 Asian Games in Busan and the 2007 FIBA Asia Championship in Tokushima. -
Rey Joble, GMA News


Reposted From Rey Joble of GMA News.TV