Gilas storm back to beat Syria, enter FIBA-Asia Champions Cup semis
06/03/2011 | 09:09 PM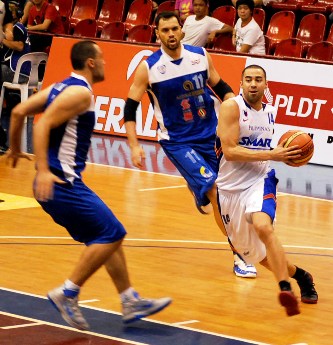 JV Casio (center) of Pilipinas-Smart Gilas drives past the defense of two Syrian players in their quarterfinals game in the 22nd FIBA Asia Champions Cup on Friday at the PhilSports Arena in Pasig City. GMA News
The Nationals had a sluggish start in the second quarter but Marcus Douthit, JV Casio and Japeth Aguilar provided the spark to set up a date with defending champion Mahram-Iran in the Final Four Saturday at 6 p.m.
Gilas coach Rajko Toroman takes another tough test against Iran, which has a seven-footer in Cheikh Samb and a prolific scorer in Chris Williams.
"This is a better team than the national team of Iran," said Toroman. "We can't play differently. We will still try to attack, use the bench more and maybe put some pressure on them."
Douthit tallied 26 points and 12 rebounds, Casio shot 4-of-9 from rainbow country to finish with 22 markers and a team-high nine assists.
Aguilar scored 12 including the go-ahead basket in the third quarter as Gilas took the lead, which they never relinquished.
Toroman said he was happy that the Nationals survived another acid test following a hard-earned win against ASU-Jordan on Wednesday in the preliminaries.
"Syria is not a bad team. To beat them especially after how we started the game with nobody playing well is good for us," said Toroman.
Samaki Walker, a member of the 2002 NBA champions Los Angeles Lakers, torched the Nationals in the second quarter leading led a 13-0 run as the Syrians erected a 35-20 advantage.
The Nationals, however, slowly cut the deficit before finally going ahead for the first time, 56-55, on an Aguilar three-point play with one minute and 37 seconds left in the third. A Casio three-pointer and a Douthit slam ended the third for a 61-57 edge.

Games Saturday
(PhilSports Arena)
2 pm Al Ittihad-Saudi Arabia vs Al Jala'-Syria (for 5th to 8th)

4 pm Duhok-Iraq vs ASU-Jordan (for 5th to 8th)

6 pm – Mahram-Iran vs Smart Gilas-Philippines (semis)

8 pm – Al Riyadi-Lebanon vs Al Rayyan-Qatar (semis)
After the Syrians moved within two, 69-67, the Nationals pulled away for good with a 9-3 finish for a 78-70 count. Mac Baracael capped off that run with a jumper, 1:55 left in the game.
Syria answered with a 10-5 run to threaten late in the game with Jamaal Miller making two free throws to cut Gilas' lead to three, 83-80, but Al Jala'a failed to foul any Gilas player that led to a Douthit jam that secured the win for the Nationals.
Walker described Gilas as a great team. "We knew that this is an outstanding team. This is a type of team that runs for 48 minutes so you really have to mentally prepare yourself to run. We started strong but they kept pushing which is what good teams do."
Walker had 25 points and eight rebounds while Michael Mandaly, who also led Syria in the early goings, had 17 markers.
Mandaly had 11 points in the first quarter alone opening the game with back-to-back baskets but was a non-factor in the second half after being saddled with four fouls.
The Syrians were also plagued with fouls with Marcelle Yaqqub fouling out late in the third quarter. Sari Papazian and Abboud Shakkour also fouled out.
#GoGilas trends on Twitter
The support of the Filipino people to Gilas showed online after it became the third trending topic on microblogging site Twitter.
It was actually Charles Tiu, brother of Gilas player Chris, who started it off.
"Here at ultra scouting the other teams early for our future games. I wonder if we could make #gogilas a trending topic later! Watcha think?", Charles Tiu tweeted.
– Reuben Terrado, JVP, GMA News
Scores:
Pilipinas-Smart Gilas 85 —
Douthit 26, Casio 22, Aguilar 12, Baracael 6, Lutz 6, Hontiveros 5, Tiu 5, Lassiter 2, Taulava 1, Barroca 0.
Al Jala'a-Syria 80 —
Walker 25, Mandaly 17, Miller 13, Deeb 11, Papazian 7, Yaqqub 4, Gorges 2, Haj Ishak 1, Yakoub 0.
Quarter scores:
20-22, 34-41, 61-57, 85-80.


Reposted From GMA News.TV