Orcullo, other world champs head field in Philippine Open Pool
REY JOBLE, GMA News
03/08/2011 | 08:24 PM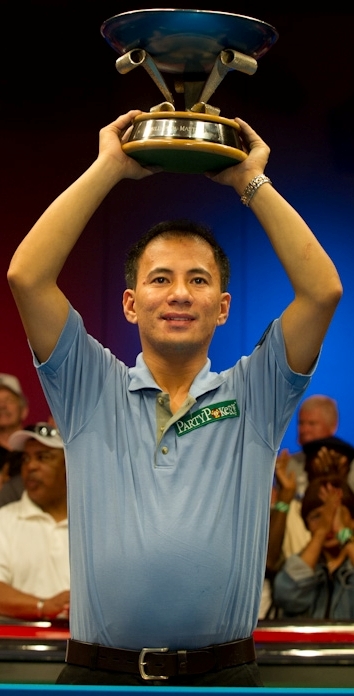 Dennis Orcullo of the Philippines will try to ride on the momentum of his successful stint in the World 8-Ball Championship and carry it in the Philippine Open. GMA News
Orcullo captured his first-ever world crown two weeks ago in Fujairah, United Arab Emirates. He is already assured of a spot in the 64-player field's main draw for men.
But the Philippine Open won't only have world champions and former No.1 male players. The event has also attracted the world's best lady cue artists.
This world-ranking event of the World Pool-Billiard Association (WPA), has gotten an overflow of entries from the WPA ranking system and the continental organizations, such as the Billiards Congress of America (BCA), the European Pocket Billiards Federation (EPBF), and the Asian Pocket Billiards Union (APBU).
The featured game is 10-ball WPA rules. The Philippine Open is a double-elimination tournament, which culminates in a cross-over semifinals and finals.
A total of US$170,000 will be up for grabs in the men's division, with the champion taking home $30,000. A total prize fund of $70,000 will be disputed by the lady players, with the winner pocketing the top purse of $20,000.
Under the system created by the WPA for world-ranking events, players earn their places in the tournament through their rankings in the world-ranking system, and by being selected by their continental federations.
A number of tournament spots can also be secured through the qualifying tournament that will be staged a week before the main tournament. Over 50 players have registered for the qualifiers, which will dispute the 10 spots for men and four spots for women going into the main draw.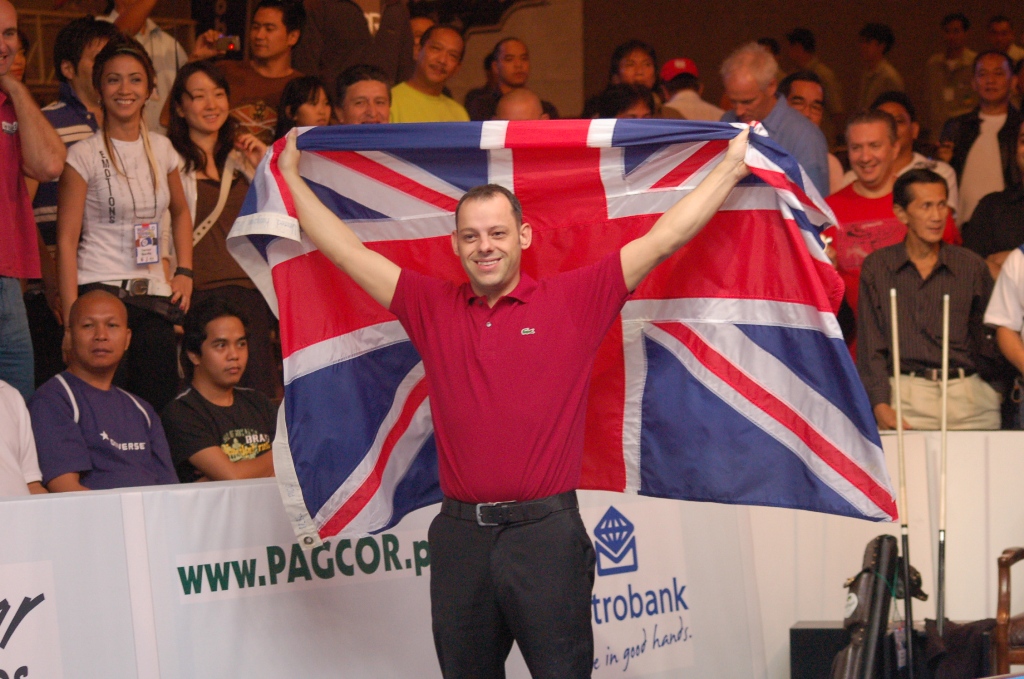 Darren Appleton of Great Britain remains as one of the favorites in any international events, including the Philippine Open Pool Championship. GMA News
Aside from Orcullo, other former world champions who confirmed their participation in this tournament are double world titlist Ralf Souquet of Germany, former World Ten Ball champion Darren Appleton of Great Britain, former World 9-Ball champ Thorsten Hohmann of Germany, and defending Philippine Open champion Ricky Yang of Indonesia.
They will face a full field of players from around the world — most of whom are national champions.
They include: Ruslan Chinakhov and Konstantin Stepanov of Russia, Robbi Fioldvari of Australia, Jason Klatt of Canada, Vincent Facquet of France, Jonni Fulcher of Scotland, Marcus Chamat of Sweden, Ko Ping Chun and Chang Jung Lin of Chinese Taipei, Naoyuki Oi and Lo Li Wen of Japan, Nguyen Phuc Long of Vietnam, Bashar Hussain and Mohd Al Bin Ali of Qatar, Rafath Habib and Sundeep Gulati of India, Chen Keng Kwang and Desmond Goh Teck of Singapore, Kenny Kwok and Bobby Lee of Hong Kong Ahmad Taufiq and Md Alias Bin Rashid of Brunei.
Representatives from the United States had still to be submitted by the BCA as of press time.
In the women's division, Jasmin Ouschan of Austria, the recently crowned World 10-Ball champion, will seek to replicate her triumph in the world championship in Manila, which she won in November last year. She will be joined by current world No. 1 Ga Young Kim of Korea, No. 2 Allison Fisher of Great Britain, and No.5 Kelly Fisher of Great Britain.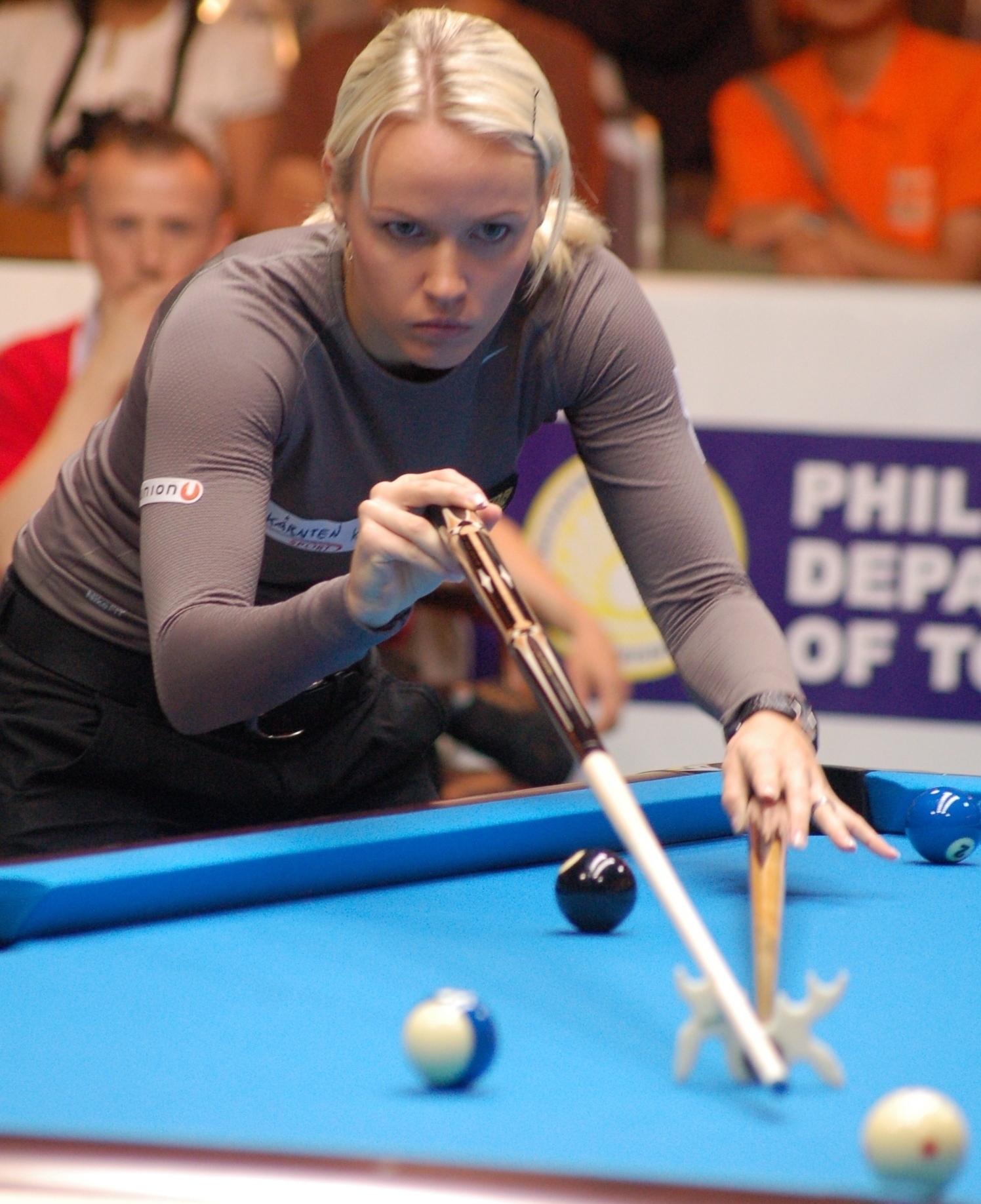 Jasmin Ouschan has always been an instant attraction for the Pinoy crowd. GMA News
Representing North America are Julie Kelly and Monica Webb of the United States, and Naomi Williams and Veronique Menard of Canada.
Also competing for Europe are: Helena Benjamin of Sweden, Mirika Poikkiokki of Finland, Karen Corr of Ireland, Line Kjorsvik of Norway, and Ine Jenstchura of Germany.
Asia will likewise be amply represented in the women's division of the Open.
Besides Ms. Kim of Korea, Asia will be bannered by Choiu Chi-Yu of Chinese Taipei, Fu Xiao-Fang and Chen Siming of China, Angeline Ticoalu of Indonesia, Suniti Damani of India, Yu Ram Cha of Korea, and teenage sensation Gillian Go of the Philippines. -
KY, GMA News



Reposted From Rey Joble of GMA News.TV